"Ho Hun" Engine Run
"Ho Hun" came in for a prop AD and other maintenance. Dave performs an engine run on the Mustang after all the work has been completed. She is good to go!
North American NA-50 For Sale
• Built by Canadian Car & Foundry as a Harvard Mk. IV., converted into a NA-50
• Well maintained
• Custom Imron paint job
• Avionics in front cockpit, Garmin 430
• Stock instruments and full controls in aft cockpit
• Retractable tail wheel
• Pratt & Whitney 1340-61 engine
Maintenance
• Recent annual inspection completed 5/9/2014
• Transponder certification 5/1/2014
• Wing attach angle AMOC purchased and AD 2005-12-51 performed 5/6/2013
• All new fuel lines installed 12/2012
• Oil cooler overhauled by Pacific Oil Cooler 12/2012
• Prop AD 81-13-06R2 performed 5/17/2011
• Engine overhauled by Tulsa Aircraft Engines, TSMOH: 327hours
Listed at $295,000.00
If interested or have any questions, please contact Lindsey Goss at 520-423-2622 or lindsey@gosshawkunlimited.com
Sadly, today marks a year that we lost our dear friend Mr. Champlin. Thank you for all that you contributed to the aviation world, and thank you for all that you did for GossHawk. You are missed dear friend!
Lindsey and Dave Goss attend Warbirds Over the Beach in Virginia Beach, VA
The Military Aviation Museum had its annual Warbirds Over the Beach May 17th and 18th. Lindsey and Dave Goss attended the show on Saturday the 17th with Lindsey's cousin and Dave's niece, Anna Cardoso. Anna loves photography, and took all of the pictures this time so that Lindsey could enjoy the show! On Sunday, Lindsey was able to spend more time at the show; this time with her cousin Anna, her Uncle John, and second cousins Christian and Becca. This show was special for Lindsey, Dave, and the whole family. On Thursday, May 15th, Dave's dad Major David E. Goss passed away. Lindsey and the family attended the show in memory of him, couldn't think of a better way to honor Dave's dad!
The show had lots to offer! There were planes on static display, flying, and attendees also had the opportunity to walk through the museum and look at the planes that were not out for the show. In addition to all of the beautiful airplanes, there was opportunities to speak with veterans, shopping, reenactments, and great food! The volunteers did a great job, and are very happy to talk to you and share the history of the airplanes. A few of the planes that took to the sky were the Mosquito, Mustang, P-40, Skyraider, TBM, PBY, B-25, Corsair, Wildcat, Spitfire, Hurricane, and many more. Spectators also got to see the rare Me-262 jump in the mix!
I want to give a special thank you to Anna Cardoso for taking so many great pictures! If you have not been to this show, I definitely recommend trying to make it in the future! For more pictures from the show, check out the Warbirds Over the Beach 2014 album on our Facebook page.
Jerry Yagen has a great collection at the Military Aviation Museum, Virginia Beach, VA.

Loading up the Ju-52 with paratroopers.

The paratroopers leave the Ju-52.

The Hurricane sits out on the ramp at the Military Aviation Museum.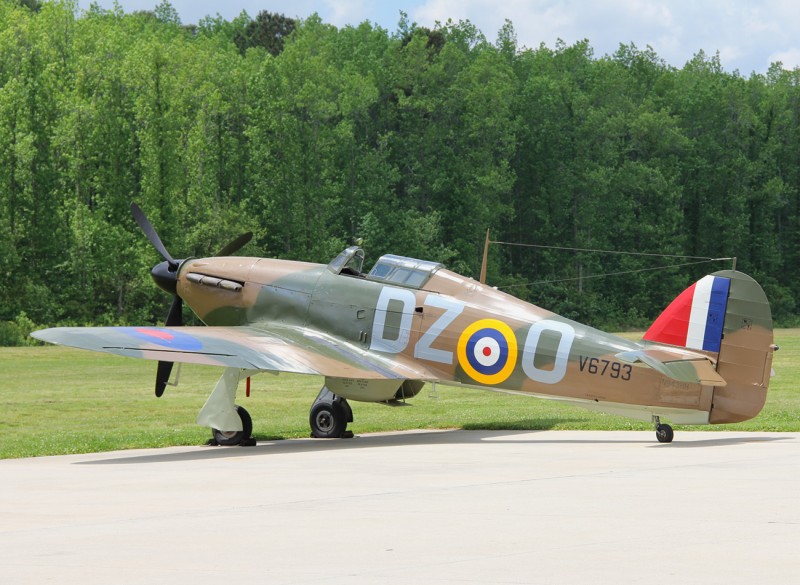 There were several T-6's at the show.

Lindsey and Dave stand in front of the Flug Werk Focke-Wulf Fw 190.

Lindsey sits against the hangar with Becca and Christian, teaching them all about aviation. They are excited and asked lots of questions!

The P-64 and P-40 fly in formation.

The Me-262 flew over from Suffolk for the show.

The crew closes up the PBY for the day.

Lindsey stands with her favorite airplane.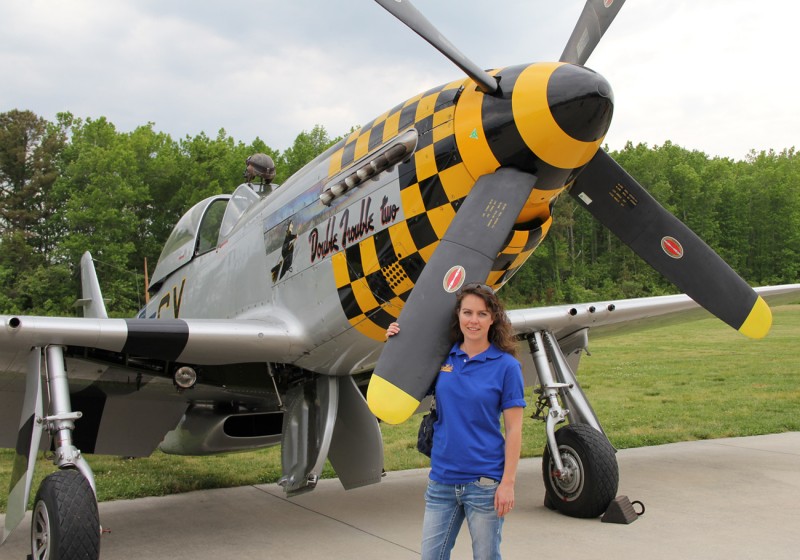 The P-26 Peashooter sitting on static display at the show.

Lindsey and Jerry Yagen talk after the show.

The Mosquito is headed out for her photo flight.

A beautiful shot of the Stearman.

In Memory of Major David E. Goss
David E. Goss was a very special man; father of Dave Goss (Dave is one of five children), and grandfather of Lindsey Goss (Lindsey is one of ten grandchildren). Had it not been for this one man, GossHawk Unlimited would not exist today. Dave Goss followed in his dad's footsteps and joined the military at a young age. After serving out his time in the military, Dave new it was in his heart to work on old aircraft. Had it not been for his dad's service, and Dave's great respect for that, he might not have traveled the path in life that led to GossHawk. It was no mistake that the GossHawk hangar was built for a B-17 project, and Dave has extensive experience with Focke-Wulf's (which was the type of aircraft that shot David down). Like any other boy, Dave idolizes his father.
David E. Goss was a bombardier/navigator on the B-17 in WWII. Unfortunately, he was shot down on his first mission. Shortly after being shot down, David became a POW in Germany. After almost a year and a half of being in the POW camp, David made his escape. He eventually made his way back to the states, where he continued his career in the Air Force for over twenty years. David retired as a navigator on C-130's, which was his favorite airplane.
Thank you for your service and for fighting for our freedom. You touched so many lives, and you will be missed by so many. I love you Grandpa!
The Privateer traveled to California for the Chino Airshow
On Friday May 2nd, the Privateer took off from Casa Grande, AZ headed to the Chino Airshow. Lindsey and Dave caught a ride to the show! This was Lindsey's first trip to Chino, she had a ton of fun and met lots of new people. Dave enjoyed one day of airshow fun, then had to return to AZ to work. The PB4Y-2 was on display at the show, and headed back home to Casa Grande on Sunday afternoon.
The Chino Airshow was a great success! The show had something for everyone! Airplanes were displayed on the ramp all weekend, the Horsemen performed at the show among other warbirds, great food, shopping, and fun for all! The show had WWII Veteran's in attendance to share their stories with everyone, they were all so amazing!
Taking off from Casa Grande, AZ in the Consolidated PB4Y-2 Privateer, headed for Chino!

Getting closer to Chino!

Dave and Uncle Jack sit in the waist section of the Privateer.

The photo plane has arrived for a photo op of the Privateer!

Great view of Lake Matthews!

The PB4Y-2 crew sits down for dinner after a long day!

Lindsey and Giacomo Di Gennaro stand next to the waist window of the PB4Y-2 at the show!

The Heritage flight at the show.

Bud Anderson shares his experiences as a WWII Mustang Ace.

Lindsey and John Muszala II stand next to Privateer.

The Privateer returns home, landing at the Casa Grande airport.

PB4Y-2 Privateer Engine Run, Getting Ready for Chino
We ran the Privateer earlier in the week to make sure she was ready for Chino. Everything went well, and she is ready to go! She will be departing from Casa Grande tomorrow at 10:00am. See you in Chino!
GossHawk Presents at the Aviation Archeology Symposium at the Seattle Museum of Flight
GossHawk Unlimited participated in the first ever Aviation Archeology Symposium, put on by the Seattle Museum of Flight. The event was a success! The presenters were great and had interesting information. Megan Lickliter-Mundon gave a great presentation on underwater aviation archeology, she provided three examples, which were all fascinating! Mark Allen of Underwater Admiralty Sciences gave a very entertaining presentation in which he discussed the trials and tribulations faced while recovering the A-20 Havoc; he also touched on the recovery of the B-17G, Liberty Belle, from Labrador, Canada. John Sessions gave a brief history on his P-51 Mustang, "Impatient Virgin" and also talked about the recovery. Adrian Hunt discussed the aircraft wrecks in Russia, giving past examples as well as potential for more planes to come out of Russia. Nick Veronico, author of Hidden Warbirds: The Epic Stories of Finding, Recovering & Rebuilding WWII's Lost Aircraft", talked about his adventures of researching and visiting different crash sites. The weekend concluded with Pete Wallingford and Dan Hagedorn, the Museum Curator, presenting on the recovery of the Museum's FG-1D Corsair from Lake Washington. These were only a few of the speakers that presented over the weekend, the ones that I was able to sit in on.
GossHawk Unlimited was very honored to be invited to speak at the Aviation Archeology Symposium. Some of the topics we discussed included: funding and how it directs a project, static vs. airworthy, original vs. new fabrication, an original and airworthy aircraft, documentation, and examples of these different projects. We concluded our presentation by talking about how we fit in directly with the Seattle Museum of Flight. So how does GossHawk tie in? Well, Dave restored and maintained many of the aircraft in the Champlin Collection, and the Champlin Collection now lives on at the Seattle Museum of Flight and can be seen in the Personal Courage Wing.
Lindsey and Dave Goss presenting at the Aviation Archeology Symposium, Lindsey is giving a background on GossHawk Unlimited.

Lindsey and Dave Goss presenting at the Aviation Archeology Symposium, Lindsey is giving a biography on herself.

Dave and Lindsey Goss presenting at the Aviation Archeology Symposium, Dave talks about the Aviatik and how she is airworthy but static.

Lindsey and Dave Goss wrap up their presentation.

Lindsey, Dave, and Connie Goss collaborate after the presentation.

Tom Cathcart (left) and Mark Allen (right) explore the Museum after the Symposium, they are great friends of ours!

Dave Goss sits in the Museum's Huey, this is the type of aircraft Dave flew on in Vietnam.

Bob Mester, Lindsey Goss, Mark Allen, Dave Goss, Connie Goss, and John Goss celebrate a successful event!

GossHawk Gains Exclusive Use to Focke-Wulf Tooling
GossHawk Unlimited is able to repair and/or manufacture parts for the Focke-Wulf Fw 190 aircraft, in particular the Flug Werk built models. We have exclusive access to Fw 190 drawings, jigs, molds, and tooling. We are capable of repairing or manufacturing wings, fuselage components, tail sections, control surfaces, and other miscellaneous parts. Although the Flug Werk models are the focus, with the combination of our experience restoring Focke-Wulf's and exclusive access to the tooling, GossHawk is equipped to repair or manufacture parts for all Focke-Wulf Fw 190 models.
Unloading Focke-Wulf jig.

Unloading Focke-Wulf jig.

Dave, Terry, and the GossHawk crew unload a Focke-Wulf jig.

Dave working to unload the Focke-Wulf jigs, tooling, and molds.

Unloading Focke-Wulf jig.

Unloading Focke-Wulf jig.

Focke-Wulf jig in use, repairing a leading edge.

Focke-Wulf jig in use, repairing a leading edge.

GossHawk Travels to Dallas, TX for NWOC 2014
Dave and Lindsey Goss traveled to Dallas, Texas to attend the 20th anniversary National Warbird Operator Conference. The conference was held February 20th through the 23rd, packed with seminars and activities. GossHawk participated as a sponsor, and setup a display. Dave and Lindsey were able to see old friends, take a tour of the 6th Floor Museum, make new friends, attend seminars, and see all the great aircraft at the Cavanaugh Flight Museum.
GossHawk Display at the National Warbird Operator Conference.

Dave Goss and Lindsey Goss were honored to meet and talk with WWII Veteran Jerry Yellin.

Jerry Yellin going up in the Stearman.

Dave and Lindsey Goss toured Fifi.

Lindsey Goss stands with the Curtiss P-40 at the Cavanaugh Flight Museum.

Dave Goss stands in front of the Bell 47 at the Cavanaugh Flight Museum.

After seeing the 6th Floor Museum, Linc Dexter took Lindsey and Dave Goss out to dinner, and enjoyed a nice steak dinner with other friends at NWOC.

Lindsey Goss met Kevin Lacey at NWOC.